Our team here at VT Labs has some incredibly exciting news to share with all of you! Clutch just issued a press release where they listed us as one of the Estonian top e-commerce developers! All aspects of e-commerce development are essential to a growing business, and it makes sense to utilize one of the world's top providers. That's why we're honored that Clutch named us one of their best e-commerce developers!
"Such award is the best motivation to go on, and create more incredible things"
Clutch.co is located in the center of the District of Columbia, where their dedicated analysts independently verify each client review that they talk to. Then, their hard-working editorial team curates the content, ensuring that you have the best information when hiring B2B vendors!
We're incredibly proud of our stellar rating on Clutch and to be listed among the best on the site! With tons of reviews, we're honored to be listed by Clutch as a leading company in the fast-moving field of e-commerce development.
In a recent five-star review, the VP of Marketing for a jewelry retail company praised the page customization and development work that we did for the jewelry retailer!
"It was quite a complex task, but the VT labs team completed the task very quickly and effectively. This project has an amazing impact on our business. We dramatically improved our customer's user experience and satisfaction."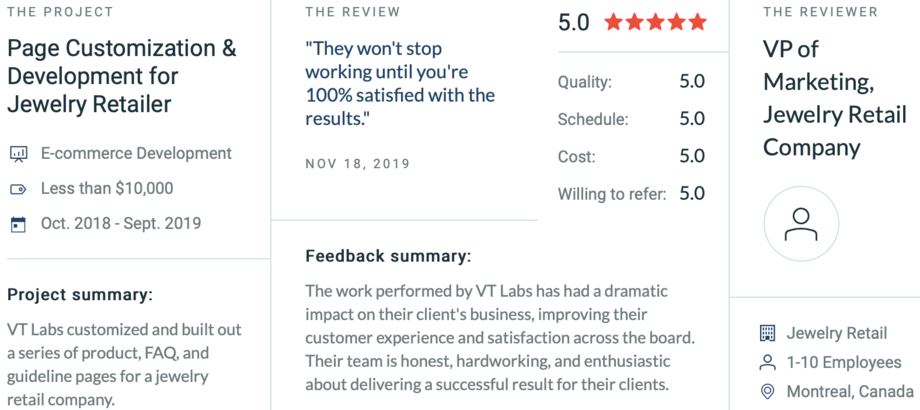 We want to give thanks to our satisfied customers, Clutch, and our team! Let us know how we can help you with e-commerce development today!